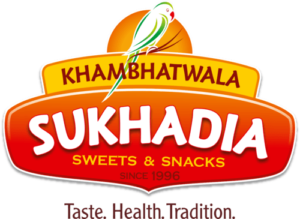 Sukhadia has been loved and rated the leading manufacturer of Indian Sweets, snacks and namkeen. Sukhadia Sweets & Snacks is a famous sweet shop based in Vadodara, Gujarat. The journey started in the Gulf of Cambay Khambhat located in Anand district Gujarat. Later, we shifted to Vadodara in 1996 and grew our business with the history of our family running this business for the last six generations. Our brand uses premium ingredients and preservative free recipes to maintain our brand quality and offer exclusive products to our community.
Why Parrot symbolises Sukhadia ?
Our Great-Grandfather Jamnadas was gifted with a parrot by his saint friend. That parrot remained with the Sukhadia family for more than 30 years. He was a smart and handsome parrot who won the hearts and minds of the entire family, friends and neighbours who lived in the Gulf of Cambay (Khambhat), India. Upon the death of our beloved parrot, the family decided to use parrot's image as the logo for the family business. Today Parrot's logo is recognized as a symbol of family tradition and values, high-quality ingredients and pride known throughout India and the United States.